By Kevelyn Vargas
*Article published by stayglam.com
Ho Ho Ho, it's time to SLAY!! If you're looking for some amazing holiday makeup inspiration look no further.These holiday looks are going to have people gagging at how breathtaking you'll look.
Gold Glitter Eyes & Red Lips
When it comes to Christmas, you can't get a more iconic look than red lips and gold glitter eyes– two of the biggest shades associated with the festive season. To achieve this brilliant eye makeup look, you'll need to start with a primer – this is important to make sure your eye makeup doesn't move at all. Glitter has a habit of getting everywhere, so make sure you apply / hold a piece of tissue underneath the eye so you can mop up any spills. You could also consider putting translucent powder down, and then brushing it all away, with the excess glitter, when you're all done
2. Dramatic Smokey Eye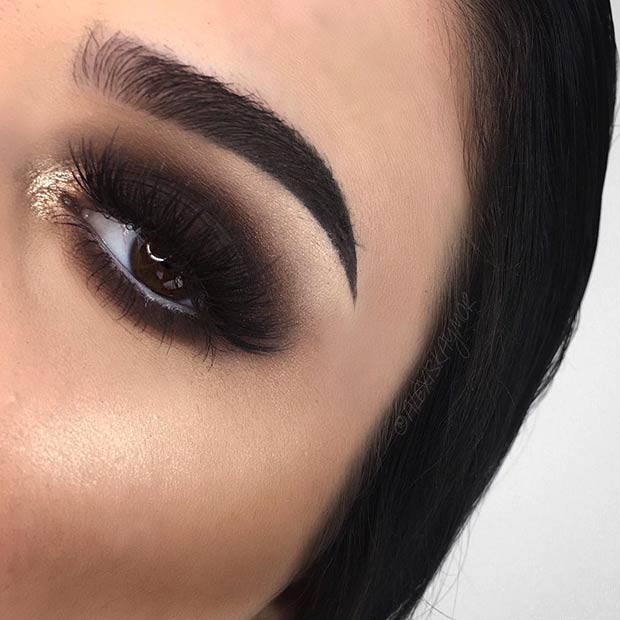 The smokey eye look is a favorite among the festive season, because it goes with practically every party outfit you could think of. The one thing we don't appreciate, however, is removing the smokey eye makeup the next morning … because you know we won't remember to do it before we go to sleep that night! Here's a great tip if you're having a hard time removing old makeup, and it's super good for your face too! Coconut oil is not only a great makeup remover when used with a cotton wool ball or pad, but it also nourishes and hydrates your face, all at the same time!
3. Dark Green Eye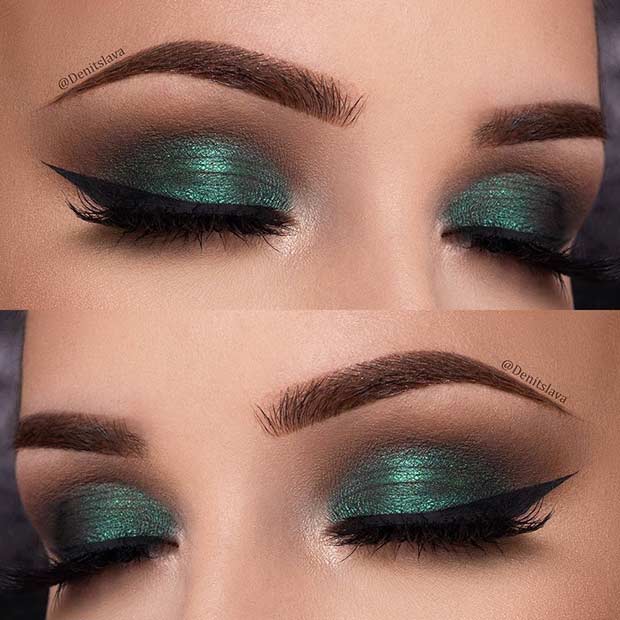 Green is a very brave old shade to wear in makeup, but it's totally achievable once you know how to rock it properly. You need to know the right green shade to wear for both your skin tone and hair color, and you also need to know how to apply it properly so that it packs the maximum impact. You should start with your eyes when going for a bold shade like these dark green eyes – leave the foundation and everything else until you've finished. The brows and eyes are going to be the most eye-catching part of this look, so start with them and then mute the rest of your makeup regime down to match / highlight the green shades, not clash with them.
4. Festive Green and Gold Look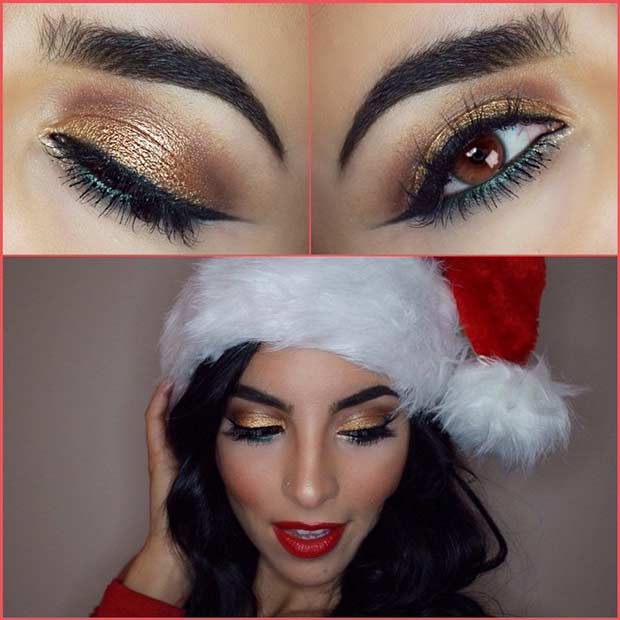 And if you're not bold or brave enough to go for a solid green eyelid, how about green eyeliner?We love the way it's been teamed with the gold pop here, bringing the two festive shades together. If it's Christmas makeup ideas to copy this season you're on the hunt for, you could do a lot worse than this. Here's a great tip if you don't have a green eyeliner to hand, and let's face it, who does? You can use a regular eyeshadow as eyeliner with a small lid filled with water, and your regular green eyeshadow. Dip the brush in the water, brush the excess moisture off, and then dip in the green eyeshadow, applying and building up as you would with regular eyeliner. You may find that you need a couple of layers to get that green pigment through, but you can achieve exactly the same look asa liquid eyeliner.
5. Dark Gold Eyes and Dark Lips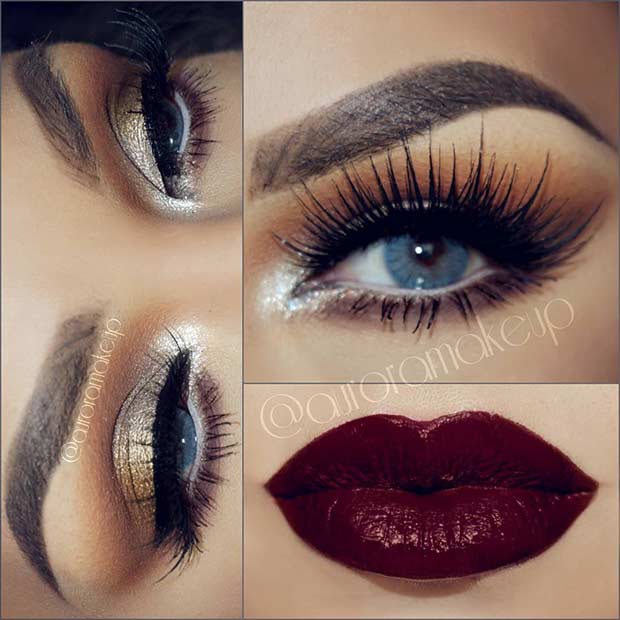 It's hard work wearing big eye makeup and big lips at the same time, but this gold and dark red combo shows you how to do it the right way. The eyes, although packed with shimmer and shine, are quite muted, leaving the big red lips to do the job they were intended to do. That tiny hint of white / pale shimmer on the inside corner of your eyes really help to open them up to, and it works with the gold eyelid shade!
6. Glitter Cut Crease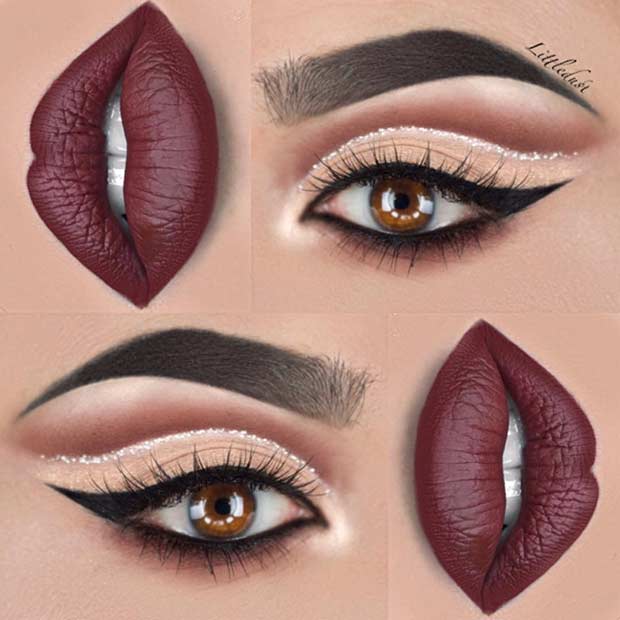 The cut crease is such a hard look to achieve at home, especially if you've never practiced it before. The one tip we would definitely give to you is practice, practice, practice! Work on the cut crease first, and then clean it up afterwards if necessary. Trying to achieve the nude eyelid, and then adding the darker or brighter cut crease later, is much harder to achieve.
7. Brown Smokey Eye and Glitter Eyeliner
If you don't want to go for a traditional black smokey eye, how about a brown one instead? With the right shades blended together, the look is just as popping, but it's much easier to wear than the harsh black and dark grey tones that you'd normally find. You can use the brown hues from your highlighter and contour palette if you don't have the right tools for the job. We've managed to recreate an entire brown smokey eye look just with that one contour palette alone and a big fluffy blending brush.
8. Gold Eyes and Nude Lips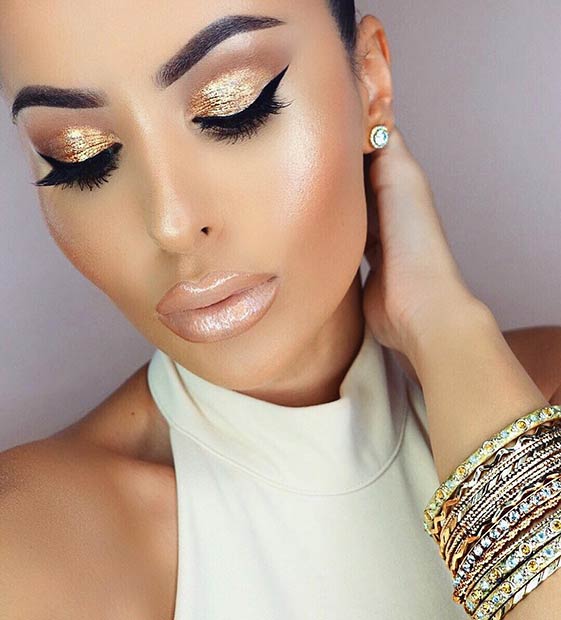 To get the right nude lips, you should first start by making sure you have good condition lips. Use a lip exfoliator first, and you could even use a homemade sugar scrub with a soft toothbrush to brush those dead skin cells away first. Then apply your balm, and give it plenty of time to soak in while you do the rest of your makeup regime, and then at the end, use a lip liner first to "over line" them slightly – this is what gives them that fuller appearance. Once you've added your nude lip shade, and then the gloss (if you want it) over the top, dab a touch of highlighter to the centre of your bottom lip to make it light-reflecting and appear bigger.
9. Black Glittery Smokey Eye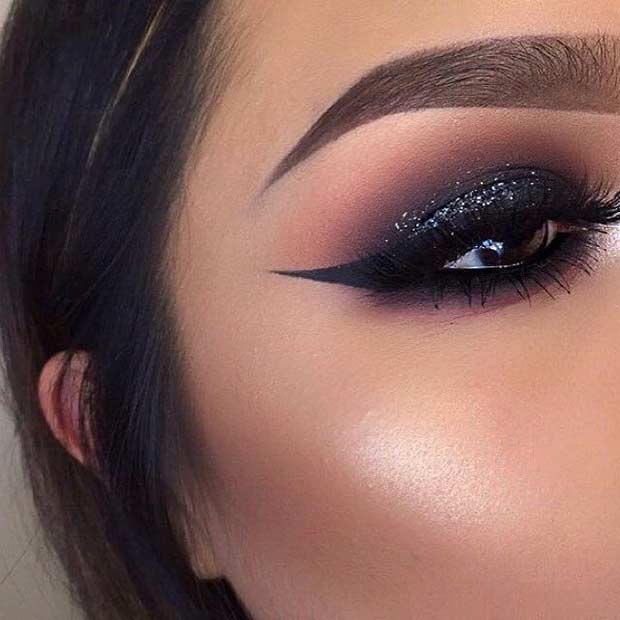 For a real difference this party season, don't just settle for a plain old smokey eye –add a touch of glitter! It instantly brightens things up, and can also stop from you looking too "gothic" if your smokey eye has come out much more smokey than you'd first anticipated. If you want easy Christmas makeup ideas to copy this season, add a touch of glitter. It doesn't matter what color or shade you've used for your smokey eye – brown, black, charcoal greys, or even color such as greens and blues, they instantly look more festive with a touch of glitter!
10. Matte Plum Lips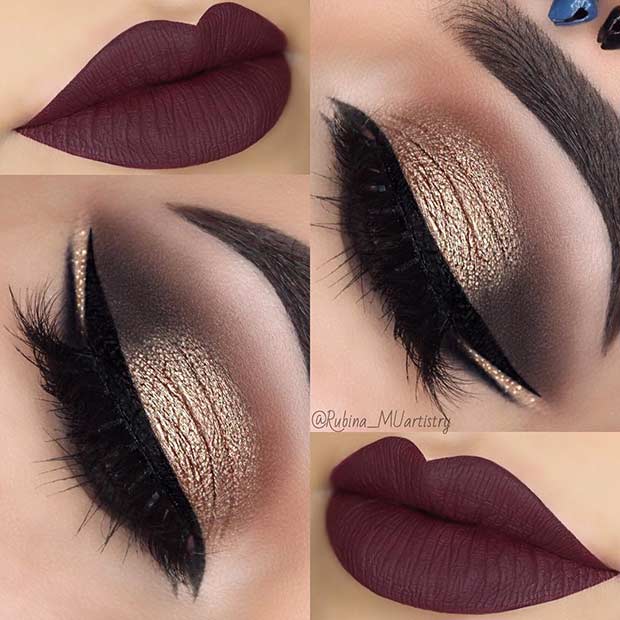 If you want to wear darker shades of lipstick, and wear them well, you should keep your darker shades for the evening, or big events. Wearing a really rich plum look to the office during the day might be a bit much, unless you keep the rest of your makeup relatively nude and subtle. If you don't know what shade of dark lipstick to wear for your light-eyes, a burgundy with a hint of pink about it would be just right, and darker eyes can opt for something with a brown tone.
Please follow and like us: